Music Resources for Teachers
Submitted by

admin

on Tue, 10/27/2015 - 12:40
Now Featuring "Teacher Therapy" I and II by Judy Domeny Bowen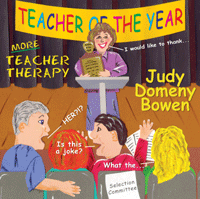 1. Back to School Migration
2. The First Day of School
3. Picture Day
4. Hurry Back
5. Annual Teacher Observation
6. Teacher of the Year
7. Thank You Mr. Ryan
8. and more....
Hooray! At last, the sequel to Judy Domeny Bowen's Teacher Therapy, the CD of funny songs for teachers, is now available! More Teacher Therapy: Teacher of the Year, contains 15 great songs that capture the essence of life as a teacher. Songs include Back to School Migration and The First Day of School to help ease your transition from summer vacation into the new school year. You'll laugh out loud when you hear Picture Day and The Trunk of the Teacher's Car. You'll look at your coworkers in a new light when you hear William the Janitor and The Chair in the Principal's Office. You'll want to sing along with In the Library-a great song referencing over twenty well-known children's books. Thank You Mr. Ryan and The Phone Call will affirm the importance of your job as an educator.
Thirty Years is a fantastic retirement song! You'll tap your toes, sing along, laugh with delight at the honesty within the songs, and enjoy this CD from start to finish. This CD makes a great gift for student teachers, first-year teachers, retiring teachers, and all those in between.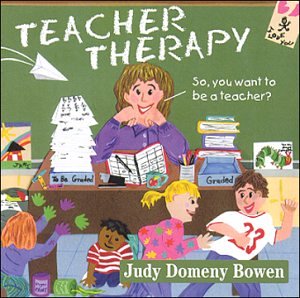 1. So You Want To Be A Teacher
2. Faculty Meetings
3. Excuses
4. Dress Code
5. These Things We Always Say
6. Gray November
7. Schoolteacher Stampede
8. February Teacher Blues
9. Happy Snow Day
10. A Million Things
11. Ticket To Tahiti
12. The Letter G
13. Brandon Moved Away
Teacher Therapy is a collection of original humorous songs for teachers written and performed by Judy Domeny Bowen.
Teacher Therapy is available as a LIVE performance by Judy. It is also now available on CD and cassette! You need a copy! All your teacher friends need a copy!
Play Teacher Therapy... when you need a laugh at the end of a long day. Play it at faculty meetings or parties. Give it as Christmas, retirement, or thank you gifts.
Laughing, happy, smiling teachers across the nation unite as we sing the national anthem of teachers: So, You Want To Be A Teacher - "You gotta have a good bladder, 'cause you never get to pee, And a really strong voice is a true necessity! "