Spark Your Students' Passion for Science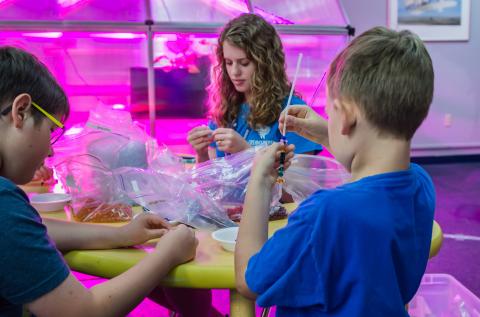 Inject interactive engaging experiences into your classroom lessons with the added confidence that each lesson meets the highest education standards. Read More...



With the Cosmosphere interactive experiences, you will find the best in blended learning that features student-centered, teacher-guided online lessons. The co-curricular programs include science, history, math, language arts, engineering, design, art, and soft work skills. Your students will engage in standards-aligned programs through project based learning consisting of 10 or more lessons. The curricula are available in English, Spanish and German. With smooth integration across all of the major Learning Management Systems (LMS), this program is perfect for both students and educators. Choose the units that will spark your students' passion for science and ignite a lifelong sense of wonder!

Available programs include:
•Solar System Bracelets (grades K-4 & 5-8):
Make your own Solar System Bracelet! With this engaging, standards-aligned activity, students will learn about the Solar System's major objects and some of their differences. Using what they've learned about the planets and other objects in our Solar System, students will make a model Solar System in a fun and colorful way!

•Meet Mr. Moon (grades 3-5):
What better way to learn the Moon phases than to become friends with the Moon! In this Cosmosphere exclusive blended learning unit, students will learn about the relationships between the Moon, the Earth, and the Sun. They will explore what the Moon is made of and even have their own data driven debate about how the Moon may have formed. The unit includes engineering design along with history, math, science, and communication skills.

This special program even features the art of Apollo 12 Lunar Module Pilot and 4th Man on the Moon, astronaut Alan Bean. To use Bean's own words regarding the curriculum: "Wow! You have created an amazing learning tool. As complete as I have ever seen. Congratulations!!!"

Through 14 teacher-guided lessons, students will be engaged and excited about their closest celestial neighbor.

•Space Junk (grades 4-5):
Space needs a cleanup crew! From the standards-aligned curriculum provided, students will study the Space Race and the history of satellites and orbits. Then they'll apply what they've learned to engineer and build a space junk collector.

Space Junk is a blended learning program that features 5 student-centered, teacher-guided online lessons (up to 11 class periods) for 4th and 5th grade. This co-curricular program created by museum experts includes science, history, math, language arts, engineering design, art, and soft work skills.