Australia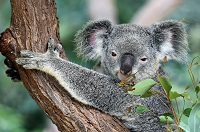 Did you know that Australia has more different types of reptiles than any other country? It's a reptile lover's paradise with more than 750 different species. Of course, Australia has more to offer than a plethora of reptiles. It is also home to an indigenous population that offers students a glimpse into other cultures and ancient ways.
Studying the Aborigines culture and traditions help transition into a discussion of natives in America and other countries as well. It's also a fun opportunity to learn. For example children might have a great time trying to learn to play a didgeridoo.
Bringing Australia to Your Classroom
Studying Australia opens up many opportunities for your students to learn. Australia offers the opportunity to study geography due to its diverse landscape. It's also a superior opportunity to study animals and their habitats due to the many different Australian species. For example, who can resist a kangaroo or a koala?
Teacher Planet offers an abundance of Australian Teaching resources, including a five-day Australian lesson plan and a lesson plan on didgeridoos. You can also find fun worksheets, hands on activities, clip art and other teaching resources all dedicated to helping you bring the wonder of Australia to your young students.
Lesson Plans
clipart
Worksheets
Coloring Pages
Activities
Resources
Units
printable