Manners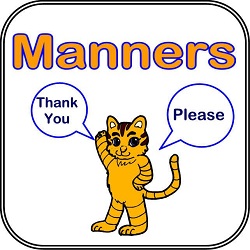 September Is National Children's Good Manners Month and a perfect time to teach kindness, courtesy, thoughtfulness, and respect of others. Good manners can help you to have better relationships with people you know, and those you will meet.

The increased use of technology in our everyday lives has created a whole new reason for teaching manners. Now, in addition to teaching the basics like covering your mouth and not interrupting, young students also need to learn basic electronic communication etiquette. And chances are your students are already using the internet quite skillfully so it's important to teach these lessons now.

Making Manners Fun

Of course, if you talk about proper manners in the classroom you can literally watch young children shut down. It's not interesting and it's certainly not much fun. However, with strategic lesson plans, worksheets and even fun hands on activities teaching your classroom manners can be fun for everyone.

From lessons in common courtesy, role playing and manners games, printables and worksheets you can pick and choose which lessons you want to teach or emphasize. Lesson plans on manners are also a useful segue into other units in the classroom and a good way to start off the year and establish classroom rules. Take advantage of TeacherPlanet.com's classroom resources and have the most polite classroom in the school.
printable
Resources
Lesson Plans
Activities
Coloring Pages
clipart
Worksheets