Mother's Day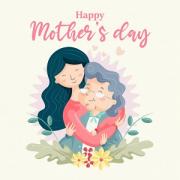 Mother's Day is a day that is celebrated around the world. Each country has a unique date for their holiday and sometimes a unique meaning. For example, in Norway it is celebrated on the second Sunday of February. In Mexico, it is celebrated on May 10th. In the United States, Mother's Day is celebrated on the second Sunday of May.
In most countries, while the origination of the holiday may differ, the common theme is to celebrate the contributions mothers make to the family and to the world.
Celebrating Mother's Day with Teacher Planet
Mother's Day is a day that many children truly look forward to. They enjoy showing their mother how much they mean to them. They enjoy making crafts, writing poems and learning how other children and families celebrate mother's day around the world. Teacher Planet offers resources to help you and your young students prepare for and enjoy this holiday.
You can find Mother's Day crafts, Lesson plans for Mother's Day, poems and a cultural study of Mother's Day. Of course you'll also find worksheets, activities, and printables to keep your classroom busy and engaged.
Coloring Pages
Activities
Lesson Plans
printable
Worksheets
clipart
Resources